PRODUCTS SHOW
---
Guoming ductile iron pipes co., ltd
External Coatings
---
The company focuses on the R&D, production and sales of ductile iron pipes, and is one of the manufacturers of ductile iron pipes with the most abundant specifications in China.
(1) Standard pipe coating: Zinc + Bitumen
The standard pipe coating is zinc plus bitumen. Zinc is a proven pipeline coating system used throughout the world for more than 30 years.Pure metallic zinc coating plus bitumen layer provide a high degree of protection against most soil conditions.
(2) Zinc + Epoxy coating
(3) Alumina Powder coating
(4) Polyurethane(PU) Coating
(5) FBE for fittings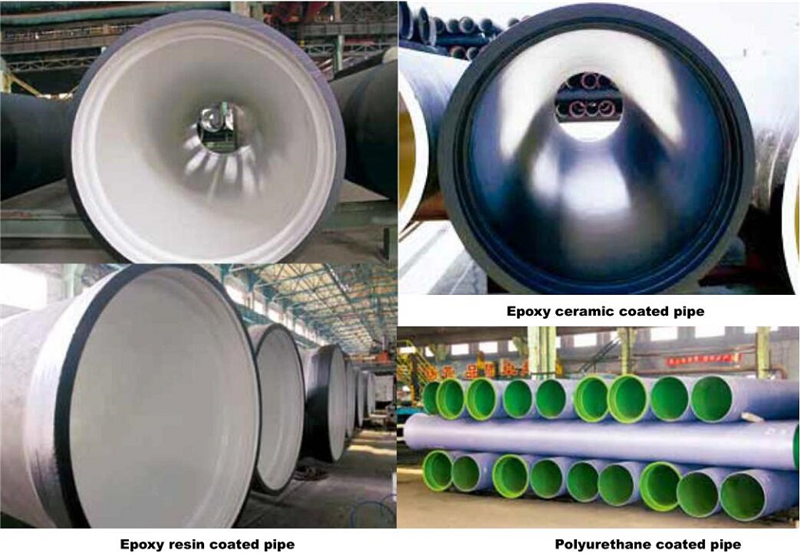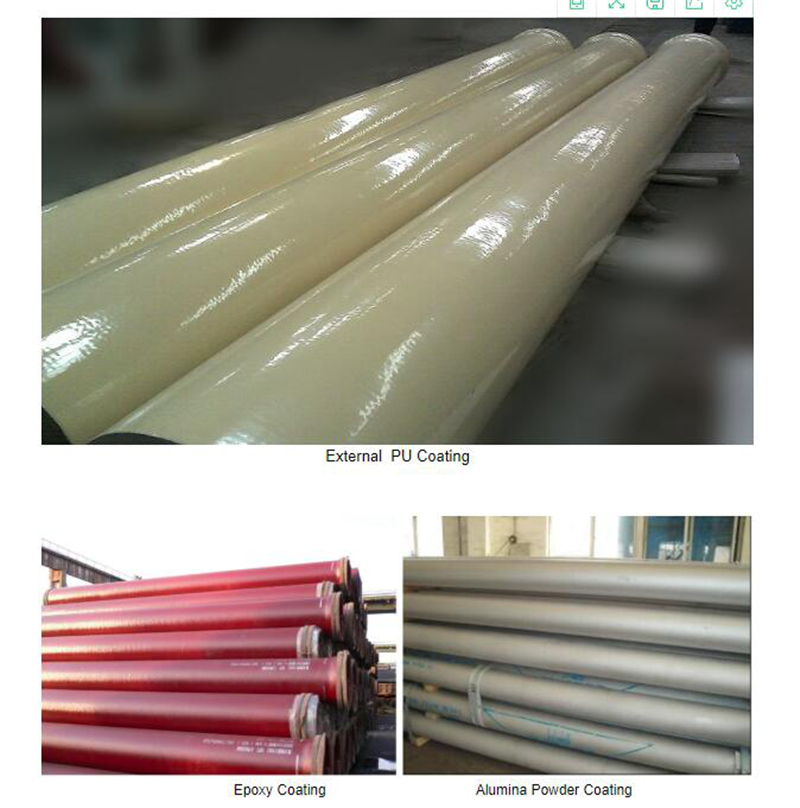 Coating and Lining
The Coating and Lining are made to protect the ductile iron pipe in order to guarantee its long lifetime use. However, the materials are various according to different applications of ductile iron pipe and different soil conditions.
Cement Mortar Lining
Guoming offers internal cement mortar lining, centrifugally applied as per ISO 4179, BSEN 545 etc.
Other Linings and Coatings
Guoming Pipes offer a range of internal lining and external coating systems to suit different ground conditions.
Internal Linings
(1) High alumina cement mortar lining and sulphate-resistant cement mortar lining.
These two special linings are applicable to inner anti-corrosion for sewage pipes, improving resistance to erosion of the sewage components.
(2) Polyurethane lining
PU lining consists of two-component, solvent-free, 100% solids polyurethane
material, which has very good corrosion resistance and wears resistance property. Because of its smooth surface it has small resistance when grinding and good retarding performance, it can be used to transport drinking water and
sewage with different material, can also improve the life of ductile iron pipes and ensure water quality transferred.
As the PU has excellent resistance to chemical and electrical corrosion, it can be used for ductile iron pipes' lining and coating to meet the complex soil burial environment and enhance the service life of pipes. PU lining surface should be smooth, flat and no obvious spiral.
(3) Ceramic Epoxy lining
Keywords:Guoming Ductile Iron Pipes | External Coatings
Guoming Ductile Iron Pipes Co.,Ltd.
---